07.11.2015
Armenian fruit may appear in Eastern European supermarkets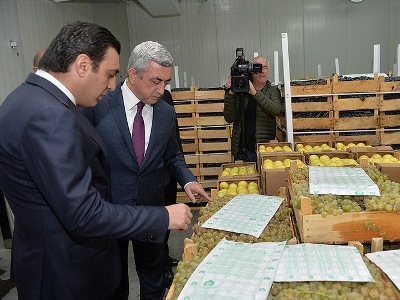 YEREVAN. - Fresh Armenian fruit and vegetables can appear in the Eastern European supermarkets, Karen Baghdasaryan, head of Spayka Ltd. Project Management Division told Armenian News –NEWS.am during the visit to the Armenian President Serzh Sargsyan to the company.
Due to the fall in the rate of ruble against dollar, those countries whose currencies didn't fall in the same amounts, lost in the Russian markets. "But we manage working, including due to searching for new markets. Export to the Eastern Europe has started since this year, and we want to sign an agreement with large retail chains before the end of the year," he said.
The company also plans to launch production of horticultural canned food and open authorized service center for Volvo trucks. If the company employs nearly 250 people now, the two new projects will ensure about 100 and 25 employers respectively.