20.04.2017
President Serzh Sargsyan familiarized with the ongoing activities of Spayka company and development programs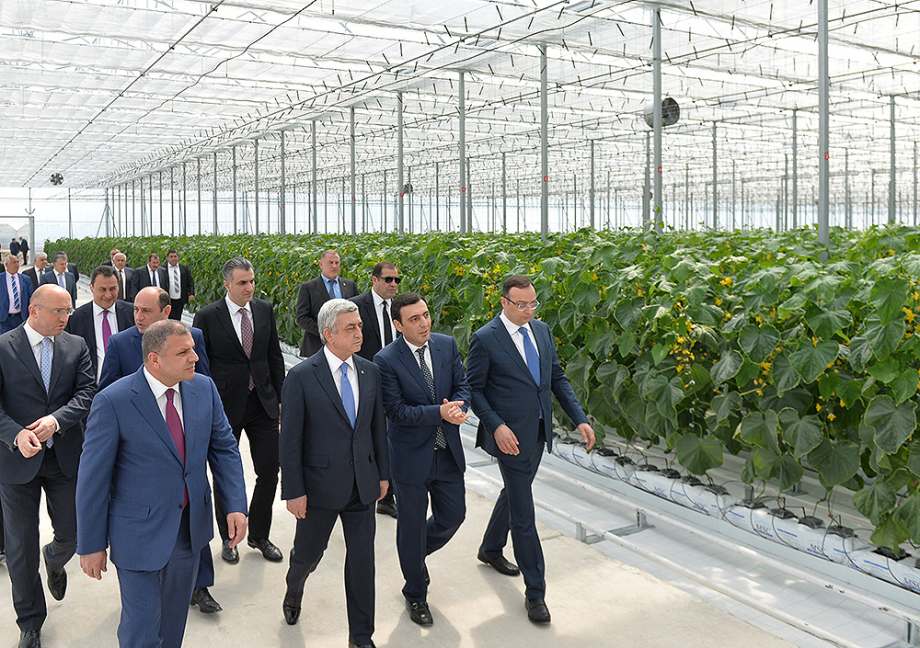 President Serzh Sargsyan conducted today a working visit to Ararat marz.
President Sargsyan accompanied by the Ministers of Agriculture, Economic Development and Investments, and governor of Ararat marz visited the Greenhouse company, learned about the company's success achieved through the development and investment programs implemented in the areas such as expansion of intensive gardening and greenhouse construction.
He also was informed on the main activities for year 2017.

After touring the greenhouse, President Serzh Sargsyan at the administrative building of the Greenhouse company familiarized with the annual report presented by the management of the company and its forthcoming programs.

Today, President Sargsyan visited also the main office of Spayka Company which is the leading agroholding of the region. Serzh Sargsyan was at the center equipped with the Volvo company's up-to-date machinery for technical servicing of the trucks, as well as at the Spayka's juice and preserves producing factory, familiarized with the achievements of the Company, with the export volumes, and development programs. The responsible officials of the Company informed that as of 2016, Spayka's direct investments were 86 million USD, the company provided 926 permanent jobs. In the end of 2017, total amount of the investments will make 154 million USD, and there will be1316 permanent jobs.

According to the management of Spayka, in 2017 the Company will be developing milk production and processing, continuing to invest in intensive gardening and greenhouse construction. Spayka also plans to introduce the online store of the Armenian goods through the implementation of the Armzone program which will allow all Armenian producers without brokers or supermarkets to enter directly main cities of the Russian Federation, and in a shortest possible time and with affordable prices to supply Russian consumers with the Armenian goods they will select at the mentioned online store.
Source: http://www.president.am/en/press-release/item/2017/04/19/President-Serzh-Sargsyan-visited-Spayka-companies/