07.11.2015
Expert: Armenia started growing European-standard fruits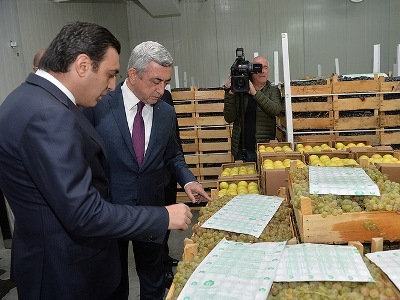 YEREVAN. – Fruits that meet European standards have started to be grown in Armenia.
Head of the Project Management Division at Spayka JSC, Karen Baghdasaryan, on Saturday told the aforesaid to reporters during Armenian President Serzh Sargsyan's visit to the company.
"The retail networks in the European Union primarily sell products that are licensed in the Global GAP system," Baghdasaryan said. "They have just been introduced in Armenia."
In the current year, Spayka has generally doubled its exports of fresh fruits and vegetables from Armenia.
According to the October 26 data by the Ministry of Agriculture, a total of 64,800 tons of fresh fruits and vegetables were exported from Armenia since the beginning of the year, as compared to the 38,600 tons in the same period in 2014.