20.04.2017
"Spayka" to make $70mln. Investments and open 390 new jobs in Armenia this year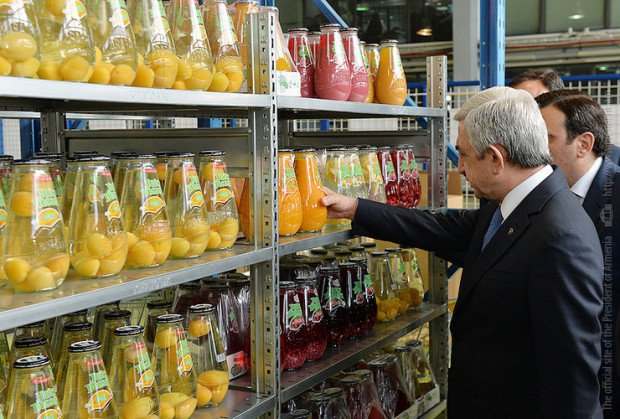 "Spayka" LLC has initiated several large programs this year, within the framework of which it will make over $70 million investments in Armenia, this enabling to open 390 new jobs in the country, Head of Project Management Division of the company, Karen Baghdasaryan, told journalists Wednesday.
President of Armenia Serzh Sargsyan on Wednesday visited the head office of Spayka LLC, a leading regional agro holding in Yerevan. The persons in charge of the company noted that as of 2016, the direct investments of Spayka made up $86 million USD. Besides, the company had 926 permanent workplaces. The overall amount of the company's investments will constitute $154 million by the end of the year. Moreover, the number of permanent workplaces will be brought to 1,316.
The President also visited the newly equipped center of Volvo truck technical service, as well as juice and can manufacturing plant of Spayka, where he got familiarized with the achievements of the company, including its export volumes and development programs.
According to Spayka LLC representatives, the company has been developing milk production and processing in 2017, continuing making investments in the sphere of orchard and greenhouse construction. One of the programs of Spayka is also the creation through Armzone online shop of Armenian products of such a platform, which will enable all the producers of Armenia to directly enter the main cities of Russia—without intermediaries and supermarkets—bringing home to Russian consumers the Armenian products selected by them on the aforementioned online platform in a short period of time and at affordable prices.